Integrating Science and the Arts for Ecological Literacy

Art is a powerful catalyst for engaging students, teachers, families, and communities in environmental awareness that leads to increased ecological literacy. Whether in the nature journaling methods of the 20th century, Nature-study advocates, or the projects of 21st century artists utilizing public artwork to draw attention to contemporary environmental issues, art is a champion of progressive and environmental education through creative thinking and acting.
Eco-Art takes place in a variety of environments from the schoolyard garden, to parks, to the classroom, and easily integrates across Montessori curricula at all levels.
In this presentation, participants will explore nature-based art grounded in history, pedagogy, and methodology, while uncovering the ways in which natural elements are used to connect people to place.
Drawing on the strength of children's inherent connection to nature, and Montessori's valuing of nature in childhood, this presentation will deliver innovative practical applications for integrating art and science into the classroom, while promoting a connection to place and the natural world right outside our doors.
Kelly, you have inspired me to move outside for all my extensions on the shelf! Can't wait to start journaling outside!.
-Sherry Krehbiel-


Kelly Johnson

Kelly Johnson (BFA, MA, AMS 6-9) seeks to guide humans to slow down and reconnect with their natural world through the arts and gardening. An artist, author, nature journaling guide, Montessorian, and children's garden educator in Neptune Beach, Florida, she spends her days creating art, teaching nature journaling courses, and sparking wonder in the garden with community children. She brings her lifetime of creative expression and gardening experience to Wings, Worms, and Wonder: the online home of her book, blog, workshops, online nature journaling courses, and garden consultations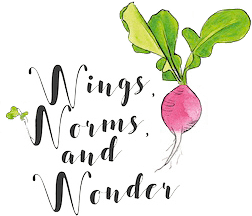 I came out of this session with the thought that it's okay to start with what we have and that something is better than doing nothing because of fear of not having "expertise". Also, it was good to have the reminder about how important it is for children to have positive experiences with nature because we may be the only experience they get.
-Teri Edwards-

Cannot express enough how much this presentation sparked my imagination and my desire to get back into the classroom.
-Simone Boyle Nowacki-

What is ecological literacy?
How and why to teach ecological literacy
The nature study movement and how it integrates with the Montessori method
Why blending art and science is valuable
What is Eco-art and why it's a great tool for nature integration in the Montessori classroom
Bonus Mini Course: Getting started with nature journaling
Bonus printables: Nature Journal Prompt Cards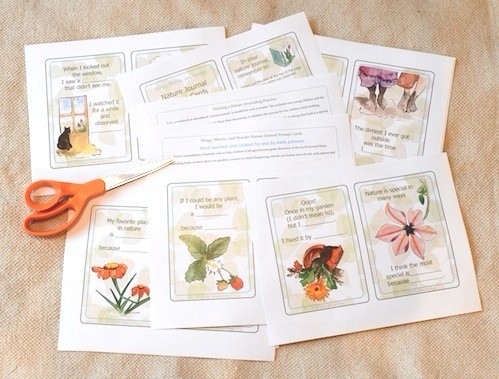 "I loved, loved Kelly's workshop! She motivated me to start a little vegetable garden, and to add rocks, shells and flowers to my outside art area." -Ana Patricia Pasquel

"I really enjoyed this course! It has inspired me, both as a teacher and a parent, to get outside and connect! To make the time to observe, touch, and just be in the beauty that surrounds me, so that I may help to build a foundation for future stewards who love and respect our natural environments." -Leslie P.
"I loved that so many of these ideas can be completed on our patio at the school. I also loved that there were so many ideas that I didn't even think of, for instance sorting sticks (length/width) which is a comparable work to red rods yet it takes in the use of nature." -Maureen T.
"I have 10 acres and a large garden for the children to use. I enjoyed the handouts with the nature activities to do with the children. I also enjoyed learning more about how easy it actually is to create journals with the children. I am excited to see how they respond to this and if it actually sparks more interest in the garden." -Amanda D.
Frequently Asked Questions
Have I taken this course already?
The Eco Art presentation was part of the 2016 Summer Summit. If you registered for the All Access Pass, the Teacher Track or the Summit Recordings, then you already have access to this course. Please log in and go to "My Courses" to view. The bonus "Nature Journaling" Course is available on the Wings Worms and Wonder website.
Who is this course for?
This course is suitable for all who work with children in an educational setting. The lesson ideas are best for students in the 4-9 age range. They can be applied to slightly older children as well.
Is this course suitable for beginners?
Yes. This course will give you an understanding of the importance of ecological literacy for young children and provide practical ideas to help you implement ecological studies with your students while integrating the arts.
Is this a live workshop?
No. This is a pre-recorded video presentation. You can view this video multiple times at your convenience. You have access for one full year.
Will I receive a Certificate of Attendance?
You can get a certificate of attendance by request. You will need to fill out a feedback form. You will receive a PDF certificate via email. We recommend confirming with your local licensing agency prior to registering if you are relying on having the certificate approved. Read more about certificates of attendance
HERE
.
What is the difference between the School registration and the Individual registration?
A school registration allows up to 5 (or more) attendees from one school to participate and be eligible for certificates of attendance. An individual registration allows one person to receive a certificate.
How does the school registration work?
Once you register as a school, you will be sent additional unique registration links (We have to do this part manually, so please allow 48 hours). You will pass these links on to the staff members who will be participating from your school. They will need to log in and register via their unique link at no additional charge. They can then login and view the presentation as many times as desired at their convenience.
I am trying to create an account but it says my email is already taken. What do I do?
This means that you already have an account with Trillium Montessori Courses because you registered for one of our other courses in the past. Use the password you created when you originally signed up, and then login to continue your purchase. If you have forgotten your password, click "Forgot Password" below the login button to reset your password. Please do not create multiple accounts for yourself using different emails.
So much amazing information and ideas of how to begin offering more Eco-Art. I love to get the children outside exploring everyday. Our outdoor classroom has opportunities for gardening, finding critters, sticks, river rock. Since watching this session, I want to incorporate Nature Journals and plan more intentional activities as well as activities that bridge what children are learning and doing inside with the outside environment with an Eco-Art twist.
-Heather Allen-

EU VAT will be added for European Customers
Registration (Tax may be added to your total)