Thank you for your interest in Trillium Courses! Please contact [email protected] if you have questions not addressed below or on the course registration page.
---
FREQUENTLY ASKED QUESTIONS
---
How do I log in and access my content?
Look for the login link in the top right corner of this screen. If you see a face icon, you are already logged in.
Enter your email and password. If you have forgotten your password, click the "forgot password" link and follow the instructions
Once you are logged in, click on My Courses at the top of the screen

(do not skip this step)

You will see thumbnails of all the courses/summits you are registered for. Click a thumbnail to enter and view the contents.
If you do not see a course you purchased, it's likely you registered for the course with a different email. If you do not see the course under your other login accounts, it's possible you registered with a typo in your email. Please contact su[email protected] and we will help you resolve this.
---
Where do I enter a coupon code?
Please look for the Add Coupon text near the top of the checkout page. When you click on that, you will be able to enter your code. Please make sure the price drops down to what you are expecting to pay before you complete your payment!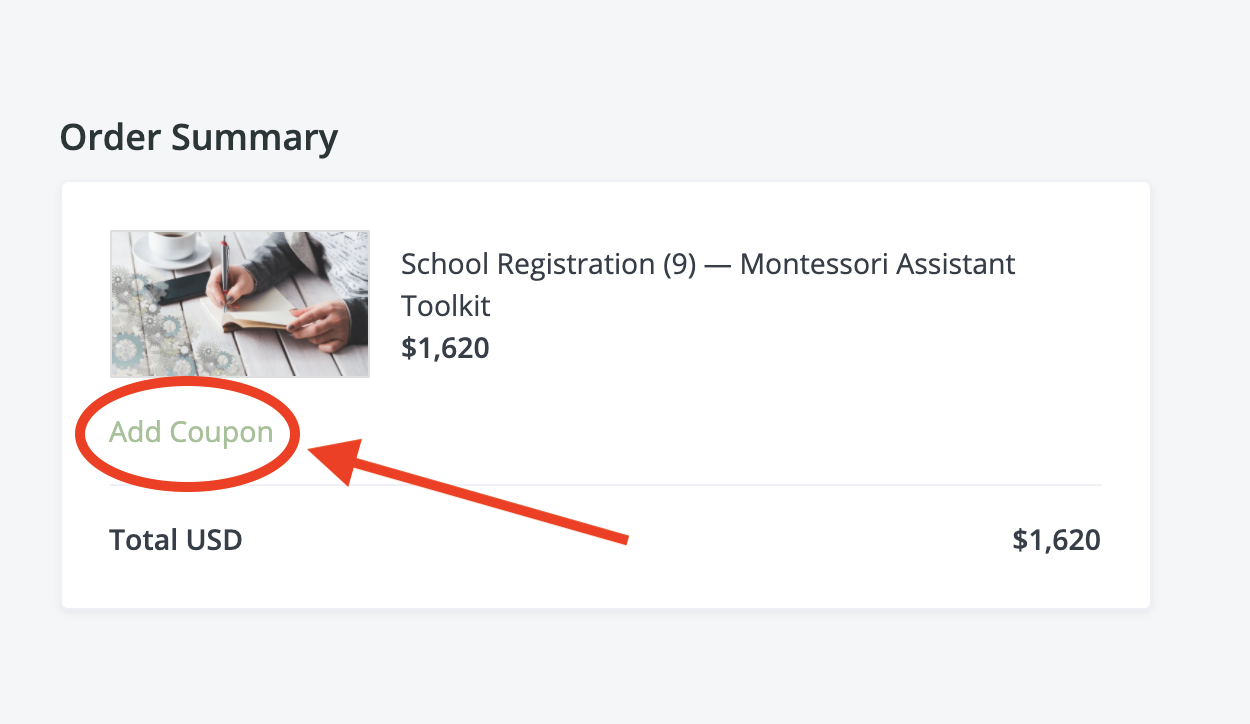 ---
How can I get a receipt for my order?
Receipts are automatically sent to the purchaser's email within 15 minutes of completing the transaction. Subscription payments will only receive an automatic receipt for the first payment. Subsequent receipts must be requested by emailing [email protected].
---
How can I get a certificate for completing the course?
Please complete the certificate request form found inside the course. A PDF of the certificate will be emailed to you within 30 minutes. Learn more:

---
How can I register for a course without paying tax?

Trillium courses are hosted on a platform called Teachable. We use the Teachable payments system to manage payments and taxes. As the vendor on record, Teachable collects, remits, and reports all sales taxes to the relevant bodies.
US tax exempt organizations will need to use our tax-exempt site for all course purchases. Read more about how to get approved here: https://courses.trilliummontessori.org/p/tax