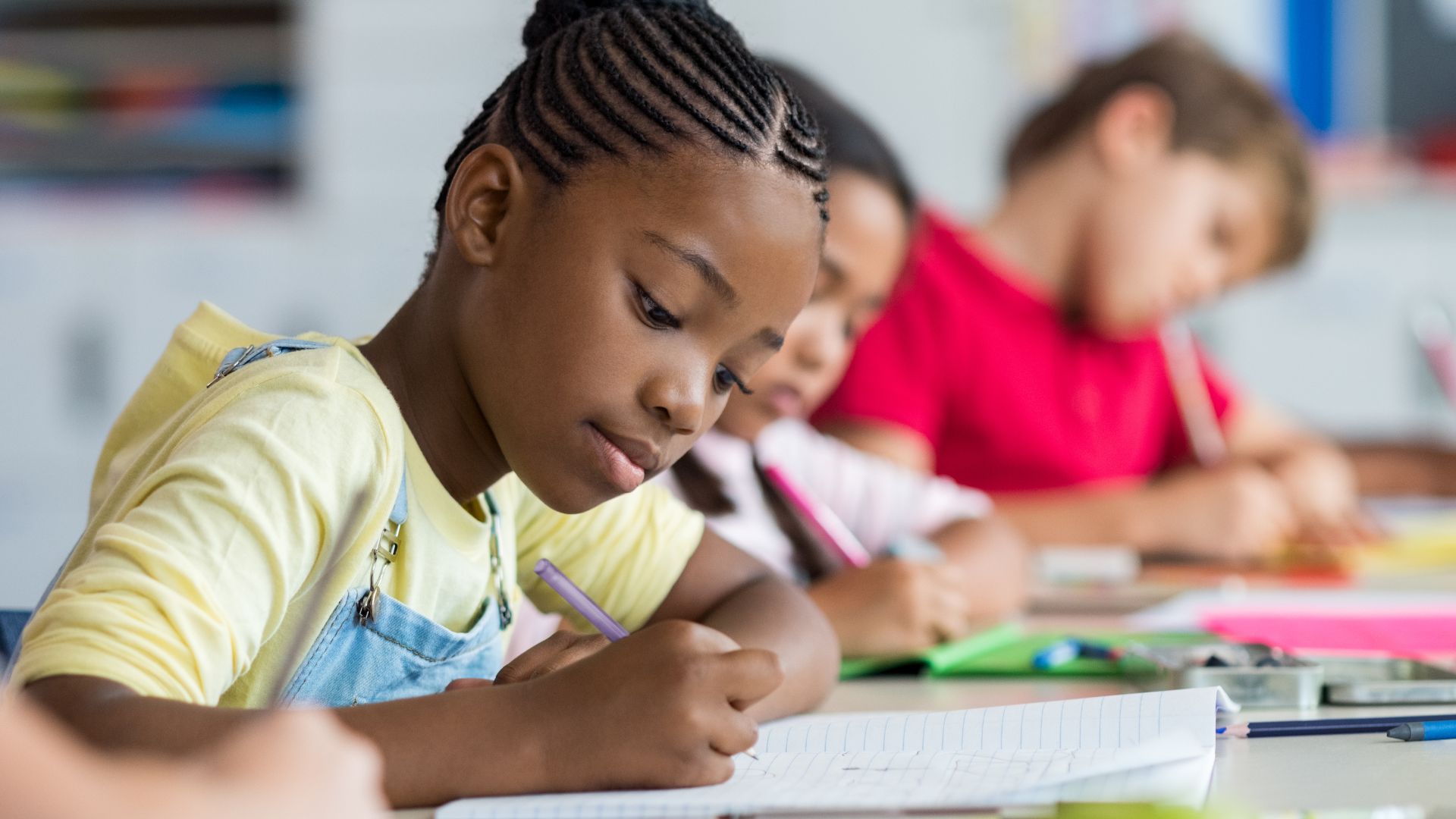 Building Strong Writers
A Practical Course for Elementary Teachers

Letty Rising
Explicit and Systematic Writing Instruction for the Elementary Level

Join Montessori educator Letty Rising, as she breaks down the essential elements of writing into a user-friendly format that is easy for educators to understand and teach.
This structured writing course is designed for Montessori educators looking to integrate writing into their classrooms in a meaningful way. This course includes scripted lessons that feature demonstration videos, sample sentences and paragraphs for guided practice or independent work, and follow-up activities.


The writing techniques used in this course are intended to be integrated into all subject areas within the Montessori curriculum, allowing educators to help their students develop strong writing skills that are relevant and applicable to all areas of Cosmic Education.
A certificate of completion for 6 hours is provided. Learn more about certificates here.

This course is eligible for a CEU upgrade from Loyola University- Aspire for an additional fee.

In this course you will

✏ e
xplore the areas of structure, content, and conventions of writing
✏ u
nderstand how to apply this knowledge to your own writing and to teach writing to others
✏ g
ain confidence in your own writing abilities 
✏ d
iscover ways to integrate writing across the Cosmic Curriculum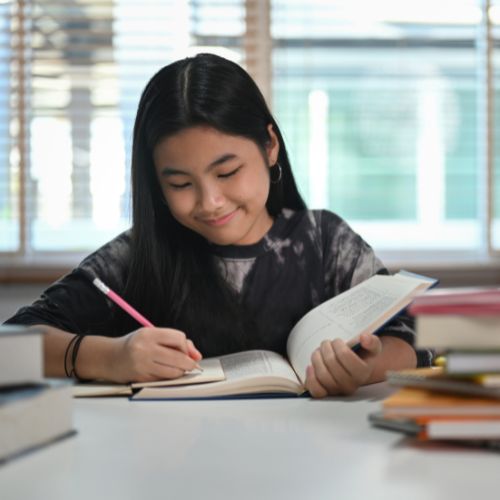 Module 1: Sentences and Notetaking

This initial module is designed to boost your confidence and skills in teaching sentence construction and note-taking. We've all seen students struggle with sentence fragments, run-on sentences, and crafting questions. This module tackles these common challenges head-on, providing clear and practical strategies that you can use in your classroom right away.


Here are some of the lessons you'll encounter:
➤ Sentence Variety and Structure: This lesson equips you with various techniques for teaching sentence variety and structure, helping your students create diverse, interesting, and grammatically sound sentences.
➤ Fixing Scrambled Sentences: In this section, students will learn how to rearrange words or phrases to form coherent and logical sentences - a key skill in revising and editing their work.
➤ Developing Questions and Extending Sentences: Teach your students to turn statements into questions and how to expand their thoughts in writing using conjunctions and appositives. This will add depth and complexity to their writing.

This module is the first step in transforming your students' writing capabilities. It is designed to be engaging and interactive, to keep students interested while they learn these vital writing and note-taking skills. It is also worth noting that this course is designed to be adaptable for all age groups. Depending on the students' comprehension levels, you can modify the complexity of the sentences used, making it relevant to any age level content.

By the end of Module 1, your students will have the foundational knowledge required for effective writing. They'll be ready to tackle more complex writing tasks with a firm understanding of sentence construction and note-taking.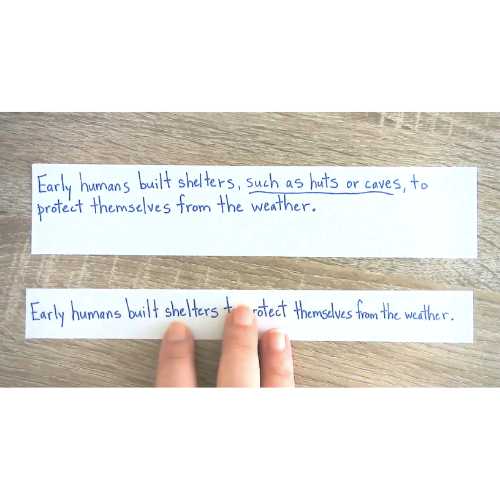 This module covers:
▪︎Fragments
▪︎Sentence Variety
▪︎Fixing Scrambled Sentences
▪︎Run-On Sentences
▪︎Developing Questions
▪︎Extending Sentences with Because, Basic Conjunctions, Advanced Conjunctions, & Appositives
▪︎Sentence Expansion Using Kernel Sentences
▪︎Written Captions for Images
▪︎Note-Taking Using Key Words, Abbreviations, & Symbols
Module 2: Paragraphs & Planning

Building on the sentence structure skills developed in Module 1, Module 2 dives into paragraph construction and planning. We explore topics like creating effective topic sentences, brainstorming supporting details, using vivid words, and more. Let's delve into some key lessons:
➤ The Topic Sentence: Learn strategies for teaching your students to craft compelling topic sentences that clearly and concisely express the main idea of their paragraphs.
➤ Brainstorming and Outlining: Help your students effectively brainstorm supporting details and use outlines to organize their thoughts before writing. This will enhance the clarity and coherence of their writing.
➤ Using Transitions: Teach your students how to create a natural flow in their writing by using basic and advanced transitions between sentences and ideas.

This module covers:
▪︎The Topic Sentence
▪︎Brainstorming Supporting Details
▪︎Sentence Variety in Topic Sentences
▪︎Choosing Vivid Words
▪︎Using an Outline to Create a Topic Sentence
▪︎Non-repetitive Concluding Sentences
▪︎Single Paragraph Outline: Book Reports, Narrative, & Opinion
▪︎Fact vs Opinion
▪︎Revising an Unelaborated Paragraph
▪︎Basic & Advanced Transitions
▪︎Referencing Quotations in Writing
Module 3: Summarizing & Essays

Moving on to more advanced writing tasks, Module 3 focuses on summarizing and essay writing. This module introduces students to summary sentences, multi-paragraph outlines, and how to convert an outline into a draft. Here are some of the standout lessons:
➤ The Summary Sentence: Equip your students with the ability to condense information effectively into summary sentences. This skill is critical in academic writing and comprehension.
➤ Multi-Paragraph Outlines: Transitioning from single paragraphs to full essays can be a daunting task. Our lessons guide you in teaching your students how to create detailed outlines for research reports, biographies, and pro/con essays.
➤ Converting an Outline into a Draft: One of the most valuable skills any writer can learn is how to transform an outline into a coherent, well-structured draft. This lesson will guide your students through this process step by step.
By the end of Modules 2 and 3, your students will not only be comfortable writing individual paragraphs but will also be ready to tackle multi-paragraph essays with confidence.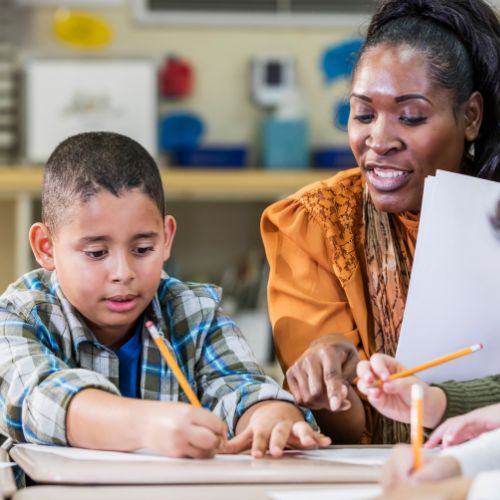 This module covers:
▪︎The Summary Sentence
▪︎The Multi-Paragraph Outline: Research-Based Report, Biography, & Pro/Con
▪︎Converting an Outline into a Draft
▪︎Using a Revise and Edit Checklist
Also included: lesson templates for all 33 lectures with c
orresponding Common Core standards listed.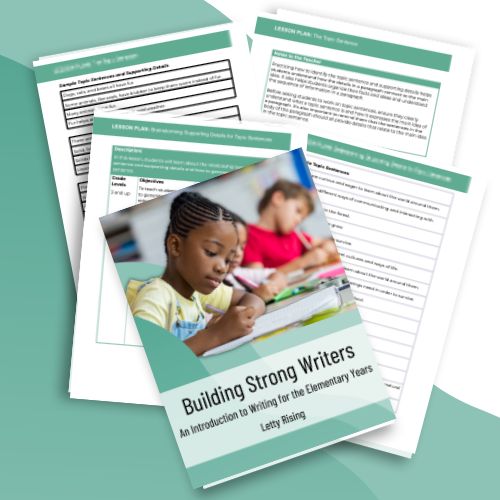 "As a teacher, I understand that not everyone shares the same passion for writing. Some students struggle with finding inspiration, while others struggle with organization, clarity, and creativity. Learning to write well is a critical skill that is essential for a flourishing life. It's not just about communication, but also about critical thinking, problem-solving, and self-expression."
        -Letty Rising

We understand that as educators, you don't just want to teach your students to write – you want to nurture their love for learning and help them build their knowledge base. That's why we've designed our Building Strong Writers course to do both, integrating content learning seamlessly into the writing lessons. Let's take a closer look at how this works.


How Writing Enhances Knowledge Building
Writing isn't just a means to express thoughts and ideas – it's also a powerful tool for learning. When students write about a topic, they need to organize their thoughts, dive deeper into the subject matter, and think critically about the content. This process not only elevates their writing skills but also reinforces their understanding and leads to a stronger grasp of the subject.


Building Strong Writers: Fusing Content with Writing Skills
The beauty of the Building Strong Writers course lies in its flexibility. The lessons are designed to be adaptable, allowing you to infuse any subject matter into sentence-building activities. Be it history, science, or any other aspect of Cosmic Education, you can customize the writing exercises to align with the content you're teaching. 


By integrating content from your Montessori presentations into writing lessons, students get the opportunity to master the subject matter while improving their writing skills. They engage with the content on a deeper level, moving beyond passive learning to active knowledge building. The end result? Students who are not only proficient writers but also knowledgeable learners.


Ready to Build Strong Writers and Knowledgeable Learners?
This course has the unique dual benefit of enhancing writing skills while solidifying content knowledge. We invite you to experience the transformative impact of this integrated approach to teaching and learning.


Join us today to revolutionize your writing instruction and take your students' content mastery to new heights.

Letty Rising
Letty Rising is an accomplished Montessori innovator and thought leader who brings creative ideas to Montessori spaces. She offers expert consulting services to a diverse range of educators and entrepreneurs globally, playing a crucial role in designing and implementing Montessori programs and initiatives. As the Lead Elementary Content Creator for Trillium, she leverages her extensive experience and knowledge to support educators in reaching their full potential.

With an AMI elementary diploma for ages 6-12 and an M.Ed. from Loyola University, Letty's broad background as a Montessori educator and school leader in public, private, and charter schools gives her a unique perspective and unparalleled understanding of the Montessori approach.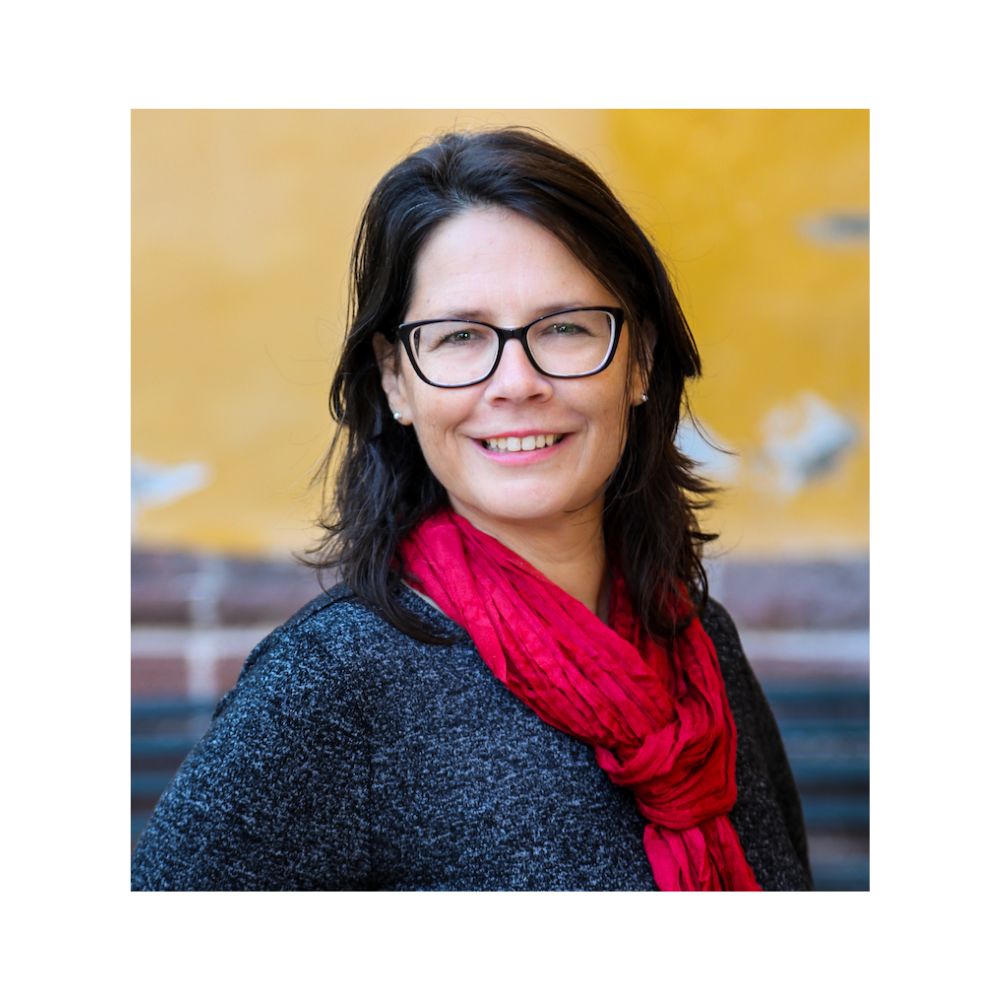 Frequently Asked Questions
When does the course start and finish?
This course consists of pre-recorded videos. You will gain access to all the videos as soon as you register. You have access for one year and you may watch at your convenience, as often as you wish, during that time.

Who is this course for?
This course is intended for elementary teachers, homeschoolers, tutors, and anyone interested in systematic and explicit writing instruction at the elementary level.

Is this appropriate for parents?
The practical strategies, lessons, and resources found in this course can certainly be applied to the home setting.

Will I receive a Certificate of Attendance?
You can get a certificate of attendance for 6 hours by request. You will need to fill out a feedback form. You will receive a PDF certificate via email. We recommend confirming with your local licensing agency prior to registering if you are relying on having the certificate approved.


Register
All prices are in USD
REDEEM ACCESS LINK
If you arrived on this page via an access link, you should see the "Redeem Access Link" price below marked down to FREE. Please click the Redeem button and follow the instructions to complete your registration.
If your access link has already been redeemed, the price below will NOT be marked free. If you redeemed the link, you are already registered and you do not need to register again. Please log in via the login link in the top right corner of the screen and then go to My Courses. If the link was redeemed by someone else, please contact your school administrator for another link. Please have them contact [email protected] if they need assistance.