REFILL...the inner well from which all great teaching flows

REMEMBER...the WHAT, the HOW, the WHY, and the WHO that all great teaching demands

REFINE AND RE-IMAGINE the necessary variations and approaches needed to make a great learning environment work for EVERYONE!

---
This is a bundle of video recordings of the live workshops held at the "Renew Refine and Rejuvenate" Montessori retreat held at Villa Montessori in July, 2018.
Find out more about the retreat here.
This bundle is best for Elementary Level Montessori teachers and homeschoolers (ages 6-12).
A certificate of completion for 4 hours may be requested after viewing all the videos and filling out a short request form.
The Courage to Teach
"Creative self-exploration of the unique gifts you carry that integrate role and soul"
Practical, proven ways to sustain commitment and courage. Parker Palmer, an amazing educator, author of the book: The Courage to Teach, and founder of the organizations: The Courage to Teach and the Courage to Lead defines teaching as: Love in service to the future generations. He says that we often talk about the What, the How, the Why of education, but seldom do we ask the "Who" question---who is the self that teaches? How does the quality of the selfhood form or deform the way I relate to my students, my colleagues, my world? How can educational institutions sustain and deepen the selfhood from which good teaching comes? Come discover and experience his answer in Mary's workshop: Creative Self Exploration of the Teacher in YOU.
Mary Orlando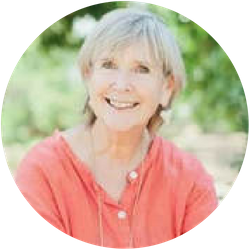 Mary has been a Montessori teacher for the past 49 years. She is Montessori certified at the Primary, Elementary 1 and Middle School level and. She has been a Montessori teacher trainer and consultant and over the 37 years she has been at Villa she has taught at every level except the Infant-Toddler one, was assistant Head of School, and Director of the Primary program. She currently is in the process of retiring with one foot still very much grounded at the school…part time.
The Five Great Lessons
This set of recordings includes a presentation on the First Great Lesson.
What are the Five Great Lessons? How can they be used each year to enthuse students in all academic areas? Students are inspired about the world around them through stories about the past. This workshop will give you some new ideas and some extensions to excite you about these lessons all over again!

Presented by Willa Flynn and Lura Amparan.
Reading Intervention Strategies and Techniques for the Montessori Classroom
This workshop reviews the key components to teaching children how to read. Megan shares some strategies on how to help struggling readers as well as ideas that will allow all students to be strong readers. She also offers some assessment tips to see where the struggles might be and how to overcome them with activities to ensure learning so that reading is fun and the written word can be used for gaining more knowledge.
Presented by Megan McGovern
Montessori Elementary Math Review
It's time to remember all of those math lessons in your album that you've forgotten or just never got excited about! Join us for a review of the Montessori math and geometry materials! This hands on class is for all of us to share how we do things and get re-inspired by the fantastic math materials in our classes! Remember when you took your training and had 15 presentations for fractions but now only do a few because it is what you've become comfortable with? Or, possibly you've forgotten them? This is your chance to get together with other educators in a judgment-free zone to collaborate and share lessons and extensions - get excited again!!

Presented by Willa Flynn, Laura Altmaier, and Lura Amparan
Math Fact Games
Have you ever noticed that the same children who don't know their multiplication facts know the name of every Pokemon? There is something about playing games that helps us all to memorize facts and develop brain patterns that facilitate math learning.
This workshop is a hands on chance to learn and play math games that you can use in the classroom or at home. These games will cover addition, subtraction, multiplication, division, factors, negative numbers, order of operations, four quadrant coordinate plane, and conversion between fraction, decimal and percent. Each participant will receive a packet with instructions on how to make each game.
The final portion of the workshop will cover online resources for math games. There are many free games that help students build skills but it takes a long time to sift through all the games that are just mindless repetition. I will detail the games that are best for memorization of multiplication and division facts, four operations with fractions, challenging games for gifted learners.
Presented by Clara Broyles
Contents
The Courage to Teach
Available in days
days after you enroll
Elementary Lessons
Available in days
days after you enroll
Ages and Stages
Available in days
days after you enroll
Frequently Asked Questions
Who is this course for?
These presentations are best suited for teachers and homeschoolers who work at the Elementary level (ages 6-12)
Do I have to attend these workshops live?
No. These are the recordings from the live workshop retreat held at Villa Montessori in Phoenix, AZ in July 2018. You may watch these recordings at your convenience as often as you wish, You have access for at least one year.
Will I receive a Certificate of Attendance?
You can get a certificate of attendance for FOUR HOURS by request. You will need to fill out a feedback form. You will receive a PDF certificate via email.
What is the difference between the School registration and the Individual registration?
A school registration allows multiple attendees from one school to participate and be eligible for certificates of attendance. An individual registration allows one person to receive a certificate.
How does the school registration work?
Once you register as a school, you will be sent additional unique registration links (We have to do this part manually, so please allow 48 hours for delivery). You will pass these links on to the staff members who will be participating from your school. They will need to log in and register via their unique link at no additional charge. They can then login and view the videos as many times as desired at their convenience.
I am trying to create an account but it says my email is already taken. What do I do?
This means that you already have an account with Trillium Montessori Courses because you registered for one of our other courses in the past. Use the password you created when you originally signed up, and then login to continue your purchase. If you have forgotten your password, click "Forgot Password" below the login button to reset your password. Please do not create multiple accounts for yourself using different emails.
How long do I have access to the course?
You have access for one year from the date of registration. During that time you may re-watch the videos as often as you wish.