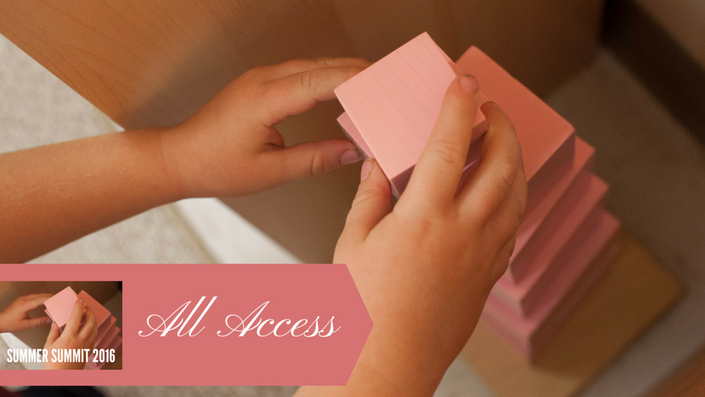 Summer Summit 2016 All Access
July 18-21
Welcome to the Trillium Montessori SUMMER SUMMIT 2016, a one-of-a-kind Montessori conference!
This 4-day event is packed with workshops, community, and resources... and it is 100% online! The Trillium Montessori Summer Summit has been designed to make the 'conference experience' accessible to all.
No matter where you live in the world or what your budget is, as long as you have a computer and an internet connection, you can be a part of this with us.
This Summit has three tracks. You can can access all tracks by registering from this page, or register for individual tracks by clicking through the buttons below.
How Does it Work?
Once you register, you will be prompted to create an account on this site so you can log in. The workshop sessions will be presented in video format and will become available according to the schedule listed. You can log in and view them as soon as they go live, or come back later and view them at your convenience. Most sessions include downloadable PDF handouts.
You will also be invited to join our Summer Summit Facebook group where you can chat and network with other attendees. Connecting with others is usually the best part of attending a conference, so don't shy away from this!
And what's a Montessori conference without an exhibit hall?! When we go to real-life conferences, most of us Montessorians like to spend as much time checking out the vendors as we spend in the workshop sessions! We are excited to offer our Summer Summit attendees a similar experience. But instead of aisles of booths to wander down, you will have access to our "virtual exhibit hall" with descriptions and links to companies that serve the Montessori community. Our goal is to help you discover the mom-and-pop Montessori shops around the world that don't have the marketing budget to pay for a booth at the large regional conferences.
Summit Schedule
All times are ET (US Eastern Time)
The schedule is subject to change.
Frequently Asked Questions
What is "Trillium Montessori Courses?
What is the "Summer Summit 2016"?
We are celebrating the 7th anniversary of our school and, to mark the occasion, we thought it would be fun to gather together some of our Montessori friends from around the globe and have a virtual conference! The entire 4-day event will be held online. Attendees will create an account to log in to our course website and view videos of the presentations. Attendees can select from one of three tracks (for parents, teachers, or administrators) or get the full conference bundle. They will also have access to a Facebook group to chat and network with other attendees. Presenters include Jonathan Wolff, Kathryn Kvols, and Maren Schmidt, among others.
What does the $69 price include?
It includes access to all 12 workshop sessions, as well as the bonus gifts (worth over $50), the exhibit hall, the Facebook community, and certificates of attendance by request.
Will I get a certificate of attendance?
Do I have to attend the sessions live?
No. Because this is a video based conference, all the sessions are recorded and will be available for viewing at your convenience once they are published.
Is there a discount for multiple registrations?
No. This Summit is priced to be affordable for teachers and parents who are paying out of their own pockets.
Are there any admission requirements?
No. Each track is open to all who are interested. Certain tracks may be of more interest to certain groups, but registration is not restricted.
When does the Summit begin and end?
The first session will become available on July 18th. The last session will become available on July 21st. You will have access to the recordings for at least one year after the last session ends.
Will I have access to the videos after the Summit is over?
Yes. You will continue to have access to the Summit videos and handouts for at least a year, and probably more. Simply log in and view at your convenience.
Will I be able to ask questions during the sessions?
In order to ensure that we do not have any last-minute technical difficulties, all the sessions are pre-recorded. There will be no live chat feature. However, you may reach out to the presenters using the contact information provided if you have questions.
Do you do school purchase orders?
Purchase Orders are not available at this time.
Can my business be part of the Exhibit Hall?
Can I get a refund?
You can request a refund until July 17th. Due to the digital nature of this product/service, no refunds will be granted once the Summit begins on July 18th or the bonuses have been released.
I have more questions.
I am trying to create an account but it says my email is already taken. What do I do?
This means that you already have an account with Trillium Montessori Courses because you registered for one of our other courses in the past. Use the password you created when you originally signed up, and then login to continue your purchase. If you have forgotten your password, click "Forgot Password" below the login button to reset your password.