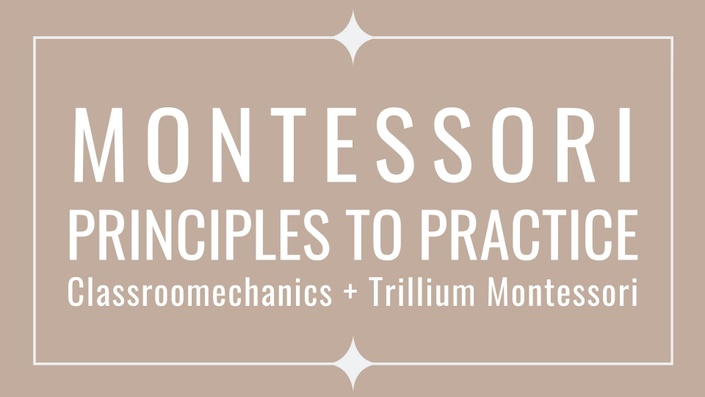 Registration is closed.
If you have an access link from your school administrator, please use the green button above to complete your registration. If you are already registered, please use the login link in the top right corner of the screen to log in and access the contents.
Please join the waiting list to be notified when we open again.
Tired of feeling overwhelmed and confused?
Keeping it together day after day can be exhausting.
We understand. We've been there.
Why isn't my class normalizing?
Why are the 3 year olds being so silly?
Why don't the 5 year olds choose more challenging work?
How do I get the children to listen to me?
How do I get them to choose independent work?
How do I help children who need constant attention?
Why am I so stressed at the end of the day?
If you have these questions, you are not alone.
We created this program because over the years in our work with Montessori professionals, we have heard variations of these questions over and over again.
"I think I'm doing everything they taught me in training but something seems to be missing."
We think the missing ingredient is experience, and that is what we hope to offer here. In p2p you can tap into the experience of Montessori professionals who have walked this path and figured out a few things. Learn the strategies, firmly rooted in Montessori principles, that have been tried and tested in the classroom environment.
We will dig in to the nuances of your classroom management questions. You will learn how an experienced Montessorian might tackle a particular scenario.
What steps should you take to begin analyzing what is going on?
What external factors might be at play here?
What adjustments might you make to the environment?
How might you change your own behavior?
What words might be effective here?
What kind of body language might you use?
Should you get the families involved?
And what long term goals should you keep in mind through the whole thing?
As we revisit basic Montessori principles and illustrate how they can be applied in different real classroom scenarios, you will leapfrog to new levels of understanding and begin to fill in the gaps in your application of the principles.
When you went through Montessori training, you received the tools you needed to be successful as a Montessori guide.

In p2p you will learn how to master the use of those tools.
Is this program right for you?
Everyone is welcome to join! However, you will get the most benefit out of this program if you meet the following criteria:
You work in a Montessori classroom setting
You work with the 3-6 year age range
You have Montessori training or work with a trained guide
You are in your first few years of teaching
You are committed to Montessori practices
FREQUENTLY ASKED QUESTIONS
How does this work?
p2p is a paid monthly subscription for Montessori guides who work at the 3-6 level. As a member, you will have the opportunity to submit your classroom management questions. Each month, p2p presenters will select a few questions from this pool to answer. They will craft video presentations explaining how Montessori principles can be applied when addressing these classroom scenarios and provide actionable strategies that you can use in the classroom immediately.
What exactly will I get each month?
On the first of each month you will find 60+ minutes of new video content inside the membership portal. The videos may be split into 15-30 minute segments for ease of viewing. You will have the opportunity to request a certificate of completion for professional development hours after viewing the videos.
How long will I have access to the videos?
You will have continued access as long as you maintain your paid monthly subscription. Videos and other content are not downloadable.
What if I can't watch the videos every month?
No problem! You can come back and watch the videos at your convenience as long as you remain a member.
Will you show us how to present Montessori materials?
No. We will not cover material presentations or discuss curriculum. We expect that members will already be familiar with how Montessori materials are used and presented.
Will I have direct access to the presenters if I have a specific question or need clarification?
No. However, you will be able to submit follow up questions which will go into the pool from which presenters will select their presentation topics.
Will the certificate count towards the AMS Continuing Education requirement?
While we do not guarantee that our certificates will be accepted by any particular agency, over two thousand Montessori educators have received Trillium certificates over the past couple of years and we have not heard any feedback that the certificates were rejected. If you are counting on having the certificates approved, we recommend contacting your agency of choice before you sign up.
I am a homeschooler. Will this help me?
We will offer strategies based on the assumption that our members are in a Montessori classroom setting with multiple children. However, many of the principles we discuss can be applied to a home setting as well. Homeschoolers may need to adapt the advice for their own specific situations.
Can I cancel for a few months and rejoin later?
We plan to open registration a couple of times each year. If you cancel, you will need to wait until the next registration window to sign up again. At that time, you will be added to the new cohort and will begin the video sequence again from the beginning. You will not be able to "pick up where you left off" so to speak.
What happens if my credit card payment is declined?
This can sometimes happen due to a technical glitch or if your card has expired. Our payment system will send you an automated notification and will retry the payment in a few days. If the payment fails twice, your subscription will be canceled and your access to the videos will end. Please contact [email protected] for further clarification.
How does the school registration work?
The 'school registration' allows one buyer to purchase access for multiple people. Once you have made your purchase, we will set up access links for the additional participants so that everyone can have their own login credentials. This process may take up to 72 hours. If the buyer cancels the subscription, all participants under that subscription will also be removed. You may purchase the school registration in groups of ten.