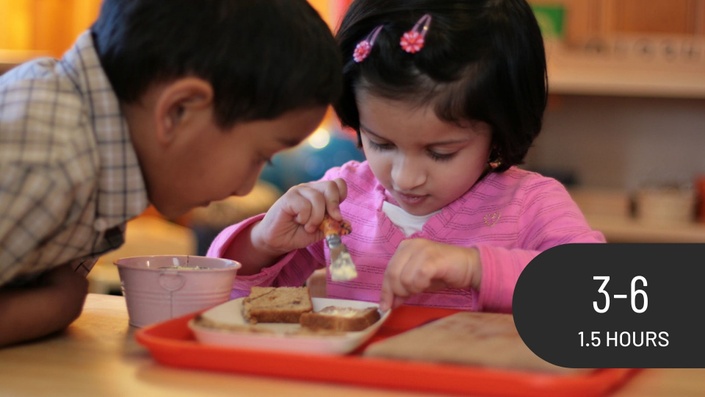 Jumpstart Normalization
Practicing Grace and Courtesy, Character Education, and Community Building
See Pricing
What is normalization? For many new teachers, or even veteran teachers at the beginning of a new school year, "normalization" can seem like a Montessori myth. Does it really exist? How do you get there? How do you get that chaotic group of little people in your class to turn into those self-empowered, joyful, peaceful, eager little learners that the Montessori approach promises?
Please join us for this informative session about getting your school year started right and find hope that normalization can indeed be a reality! You will learn strategies to help you jumpstart the normalization process in your 3-6 Montessori classroom.
Jonathan Wolff is known for providing practical advice that can be implemented immediately. Whether you are drowning in the craziness that sometimes defines September, or you are feeling confident but looking for a few new ideas to add to your toolbox, then you will not want to miss this session.
"Jonathan's dynamic presentation succinctly illustrates how storytelling helps plant seeds of thoughtful behavior in class, and demonstrates powerful ways in which Guides can teach rather than correct, all through the year, to foster classroom Normalization."
-Erin Johnson
Your Instructor
Jonathan has over 30 years of experience in the Montessori field, as an AMI credentialed teacher, school leader, keynote speaker, author and trainer.

The primary focus of his current consulting practice is on leadership development – designing best practices and writing books and articles that enhance individual and organizational performance.

Jonathan has an incisive ability to apply Dr. Montessori's educational constructs to training adults. His creative, interactive programs, his humorous and inspiring teaching style, and his deep insight into the needs of people and organizations are in high demand by organizations around the world.
[email protected]
760.473.8344
jonathanwolff.org


"Jonathan Wolf is so inspiring and makes me want to begin making changes in my class right now, TOMORROW! I will definitely share the knowledge with my assistant!"
-Tyrene Johnston

"Jonathan Wolff lives and breathes Montessori and effortlessly shares his insights and know-how to help teachers get on the path to Normalization quickly after listening to this webinar! His advice and recommendations will be put into practice immediately in my classroom!"
Kelly Diliddo
Frequently Asked Questions
Who is this course for?
This course is designed for Montessori professionals. Non-Montessori educational professionals and homeschoolers will also find a lot of value in the content here.
Is this a live workshop?
No. This is a recording of a live webinar held on September 19, 2016. When you sign up, you will be viewing the recorded video of the session.
Will I receive a Certificate of Attendance?
You can get a certificate of attendance by request. You will need to fill out a feedback form. You will receive a PDF certificate via email, along with a course description and a short questionnaire about the contents of the webinar. You may need to submit the completed questionnaire with your certificate to your local licensing agency in order to be eligible for continuing education credits in your area. Read more about certificates of attendance
HERE
.
What is the difference between the School registration and the Individual registration?
A school registration allows up to 5 (or more) attendees from one school to participate and be eligible for certificates of attendance. An individual registration allows one person to receive a certificate.
How does the school registration work?
Once you register as a school, you will be sent additional unique registration links (We have to do this part manually, so please allow 48 hours). You will pass these links on to the staff members who will be participating from your school. They will need to log in and register via their unique link at no additional charge.
I am trying to create an account but it says my email is already taken. What do I do?
This means that you already have an account with Trillium Montessori Courses because you registered for one of our other courses in the past. Use the password you created when you originally signed up, and then login to continue your purchase. If you have forgotten your password, click "Forgot Password" below the login button to reset your password. Please do not create multiple accounts for yourself using different emails.
"This course was informative, fun and very user friendly. I enjoy hearing the stories Jon told of his experiences with 3-6 year olds. Many activity ideas were given that I can't wait to try out. My favorite is the story of the three roses!"
-Robin Nosek
"This course was good food for the soul. Great information and it reminds you that you are not alone in your own fish bowl. Montessori is a great ocean and we are surrounded by amazing people willing to share good information that will continue to guide us on this journey of Montessori. As Dori says, "Just keep swimming."
-Jennifer Case
Registration (Tax may be added to your total)